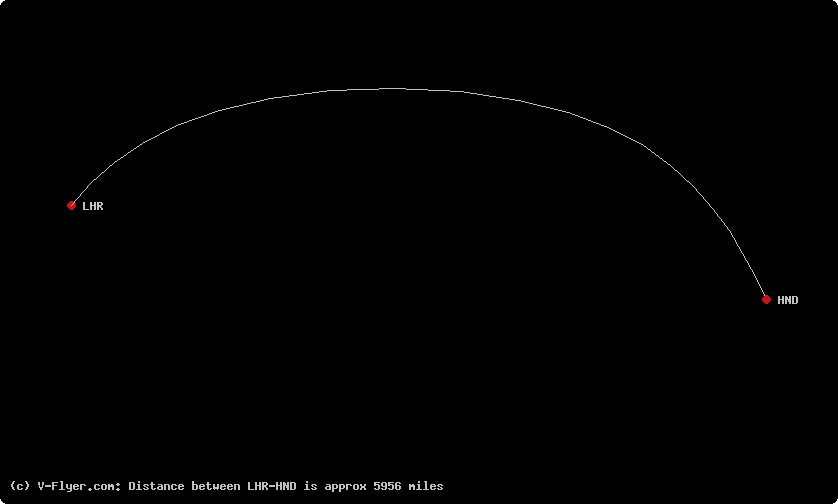 After a lot of nagging from Ultreen1 I finally got around to this trip report. My attempts at in-flight photography were terrible so I'm afraid there are no pics to accompany this report. As usual it rambles a bit and gives highlights of our trip as well as the flights, so read on…
Part 1: BA007 LHR-HND 28th Feb 2017, First Class
I'll preface this report by saying that approx 2 years ago, in order to widen choice, we started collecting Avios, and as you do, got the BA Premium Amex with the 2-4-1 voucher that's valid for 2 years, with the intention of using the first voucher to facilitate this, our third trip to Japan. We've been squirrelling away avios to the point where our collection of VS miles has slowed right down, but I do manage to occasionally earn here and there.
So we got the 2-4-1 voucher and started thinking about taking a trip to Japan early autumn 2017 to see the country at a different time of year. So we started looking for avios redemptions having earned a little in excess of the required amount for an off-peak redemption in F. Could I find any? Could I hell! Using BA's handy tool for searching for redemptions that shows up availability on a calendar (like VS used to), I searched for several date variations in September and October this year. I could find outbound redemptions, but nothing return or the other way around. I even looked at flying our and back in different cabins, but the seats were just not available. What I noticed is that there were plenty of redemptions for earlier months, so I just started looking and eventually found dates for early Spring, off-peak, both sectors in F. Great stuff, so I went back to our travel agent Inside Japan Tours (the only time I use a TA), got them to re-date our tour and reprice it (and it dropped £600!), and then got on and booked our flights. I can't quite remember if I called BAEC or did it online, as you can book and use your 2-4-1 online.
So, flights booked, tour package confirmed, and only 5 months to wait. As soon as I was able to select seats I did so, and we were flying on 777-300's with 14 seats in F.
We did the usual and travelled to LHR the day before, stayed at Hilton T4 and got an Uber ride round to T5. At the time BA were still constructing the new and now open first checkin area, but we followed signs and were greeted by a member of ground crew and escorted to a checkin desk. Everything nice and quick, very pleasant, and we were directed through to security, which didn't take long, and then as we passed through I looked for the door on the right to take us straight into the Concorde Room.
On the day I posted a wave from the lounge, confirming someone else's comments (Sealink I think) that it's like a Wetherspoon. It kind of is, but it was pleasant enough. We had breakfast in one of the booths in the dining area, and very pleasant it was and excellent service. It's all very understated, although many of the pax looked a bit somber, some most definitely having the proverbial face like a smacked bum! Nonetheless, our time there was relaxing and pleasant, and I had all the champagne I could drink. We didn't arrive perhaps as early as we might if it were the Clubhouse, but had long enough. They are very different places. I think I prefer the Clubhouse, but my husband expressed preference for the BA lounge.
So off we went to board our flight, with something like a 10 minute transit to the boarding gate. Welcomed aboard and escorted to our seats; I had originally put us in 4E&F, adjoining suites but changed us to 3&4K. I would say the F suites are not much bigger or different than UC (you can't help but compare). The seat was angled towards the window with plenty of space and the back of the seat in front (where the Grumpy One was sitting) had a wardrobe. Seat was very comfortable, easy to adjust with a dial rather than buttons, a decent lamp and the IFE was just fine (much better than on VS).
I would say that a couple of the crew were a bit 'odd' and I can't quite put my finger on why or what it was about them. I remembered Pam Ann's comments that BA crew look down their noses at everyone like they were personally responsible for the death of Princess Diana, and whinny like horses! But I don't think that was it. The strangest one had jet black hair that didn't match his true age and he was a bit aloof. He brought round amenity kits and offered pyjamas. I declined PJs which came with slippers, thinking they wouldn't fit. Got a bit of a look when I asked for some slippers though, as though I couldn't have one without the other.
Anyway, welcome drinks given out, champagne of course, and I got settled. As soon as we were airborne I went and changed into my own sort of PJs, some sweat pants and a t-shirt. I still hadn't received my slippers and had to ask the weird one again. The FSM or Percer came round the cabin and said a quick hello to all pax in F. I think there were 10 or 11 in the cabin.
Thankfully, the weird CC wasn't around for much longer and for the rest of the flight we were looked after by a lovely CC who was very friendly and chatty, and encouraged me to drink all the champoo I could. The crew are definitely different to VS crew though, they're more reserved but they will engage if you give them a bit of chat. That said, I don't think my weird friend would have. He was just odd.
The flight went by very nicely, did the usual and watched some movies etc, ate, drank, and tried to rest a little. The food was excellent; nothing outstanding but well cooked and flavourful, well presented on Wedgwood China, and plenty of it.
Amenity kits were much better than the VS offering, and came in a small zipped toiletry bag with the usual socks, eye mask, earplugs, toothbrush, lip balm and pen, but with other useful stuff such as a shaving kit and some moisturiser. Nothing special, but just a cut above what VS offers.
It was my first experience flying F, and I know that in comparison to many other airlines, BA F is widely considered to be an excellent business class product. From reviews of other airlines I've read and videos I've seen, it's clear they're way behind the rest of the world's major airlines. But nonetheless, it's a good product. It is different to, but comparable to VS UC, but more exclusive given cabins have fewer seats. We really enjoyed it and would fly BA F again - collecting avios now and already have my next 2-4-1 voucher, just need to decide on destination.
On arrival into HND we disembarked quickly and headed for border control, which in typical Japanese fashion, is quick and smooth, collected our luggage and headed off to find our private transfer to our hotel in Asakusa for the first part of our trip.
Part 2: Highlights
Our trip this year had many highlights including the very early cherry blossoms in Tokyo, and we'd chosen a couple of new destinations. This included a trip up in the mountains near Nikko and around Lake Chuzen-ji, which was just stunning, our hotel / Ryokan overlooked the lake. During this visit in our Ryokan I had some of the weirdest versions of tofu, including a sloppy tofu skin in milk or liquid soy, I'm not quite sure but it was strange. Probably the weirdest food I've had. The Grumpy One had stipulated no raw fish as usual and first night he was given something vegetarian for when I got my sashimi course. However, the next night they brought him a local delicacy in the form of horse meat sashimi dressed with gold leaf. His face was a picture! Our server seemed very pleased to be putting this dish in front of him but looked very confused when he turned up his nose, (I do wonder how many gaijin turn away the food presented to them in these establishments). Anyway, ever the adventurous one of us, I ate it, and it was delicious. We visited Sendai, a place not oft frequented by tourists, evident by fewer people able to speak any English, although I did manage to make myself understood in the Gucci boutique!

We took in one of the 3 most celebrated scenic views in Japan with a boat ride through the islets of Matsushima. A few days in Tokyo of course, and an extended visit to Kyoto from where we made a couple of side trips to a beautiful temple moss garden that requires applications to visit submitted in Japanese several weeks in advance, and requires you to take part in chanting etc before you can view the gardens. Well worth the effort, the gardens are stunning, and built around a central pond with small islets that when viewed from above form the Chinese character 'xin', meaning 'heart'. Our final destination was Nara famous for the bowing deer and the largest bronze Buddha statue in Japan, which was, to put it simply, awesome.
After a glorious 2 weeks in what is becoming my favourite destination, it was soon time to return.
Part 3: BA008 HND-LHR 15th Mar 2017, First Class
I won't dwell too much on this part of the trip since it was basically a repeat of the outbound flight. We arrived at HND and checked in with ease, and then headed to the JAL First Class & Sakura lounges. Very pleasant, plenty of food on buffet so we had a nice breakfast and a couple of drinks. I took advantage of the nearby shopping and slipped into Montblanc to treat myself…
Soon it was time to board, and again we had a nice warm welcome from crew, and escorted to our seat, 4E&F, the 2 centre suites, which it turns out have slightly more room in terms of shelf space than the window suites.
We had great CC who looked after us, she was warm and chatty, but still a little reserved. Food again was good and tasty and on this flight I managed a couple of hours sleep. Oh and I thought I'd try the PJs given out and was surprised to find they fit! The VS sleepsuits just make me look like a trussed up chicken, so this was a definite improvement for me!
I very often have restless legs and when I do I look like I'm dancing a jig in my seat. It's not painful, but uncomfortable and often the only way to abate it is to walk around. So I went for a walk round the plane…
I was horrified by the Club World cabin, 8 eats across the cabin!! Packed in like sardines in a tin. At least with World Traveller Plus and World Traveller I knew what to expect, but looking at the Club World cabin I'm really not sure I could subject myself or my husband to that. It looked horrid, and yet they seem to fill the seats.
I reminded myself how lucky I am and had a glass of champagne when I returned to my seat. Rude not to really, and my lovely CC was very happy to oblige.
So that's about it. We arrived back into LHR in time to use the arrivals lounge and take a shower, but those plans were scuppered by the extraordinarily long wait for luggage to arrive on the belts and by the time we got through the lounge was closed. So we headed to King's Cross and relaxed in the first class lounge before taking the train home.
We were very happy with the BA F product and look forward to flying again, but in reality, it is more like a J product; very pleasant nonetheless and there are worse ways to spend 12 hours at 35,000+ feet!
At the end of the jetway TURN LEFT and... champagne, champagne for everyone