This is a Trip Report from the Upper Class cabin
Ground Staff

Food & Drink

Entertainment

Seat

Cabin Crew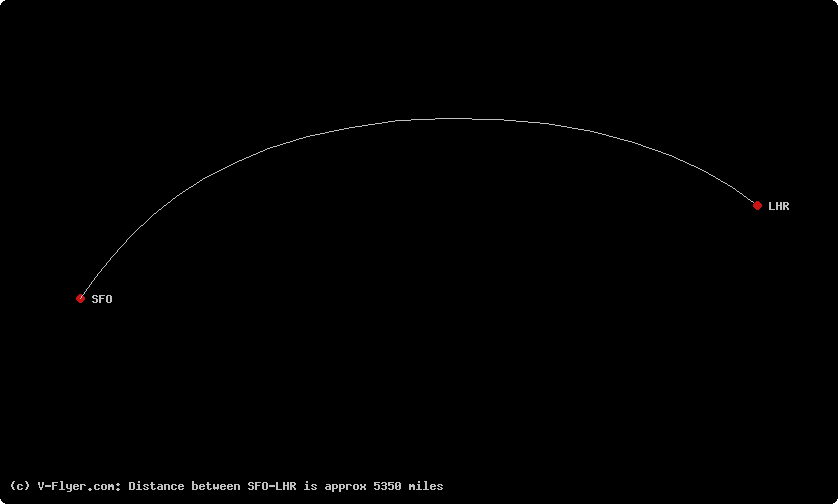 After 6 fantastic days in San Francisco it was time to head home. I'd managed to do a few new things on this trip even though I've been to San Francisco several times before. Finally paid a visit to Coit Tower as well as Golden Gate Park including the California Academy of Science (there's a fantastic indoor rain forest there), the De Young Museum viewing tower and the Japanese Tea Gardens which are all worth a visit.
The weather had been nice and dry pretty much the whole time I was there, apart from my last day there.
I'd done OLCI using the app the previous day. Received a text + email from VS informing me of a 30minute delay on this evenings flight home which did set alarm bells ringing somewhat as I had an advance purchase 16:07 VTEC train to catch from King's Cross (more on this later).
I left the InterContinental on Howard Street just before 16:00, making full use of my extended checkout and headed back to SFO using the BART again. The weather in San Francisco was wet and windy and it got progressively worse as the day went on.
Soon arrived at the International terminal where I headed straight to VS check-in where I was again informed about the 30 minute departure delay. Check-in was quick and efficient.
I should have mentioned this on my out-bound flight but it looks like the red passport security stickers are no-more now, which I will miss

. The old style elasticated Upper Class (and I presume Premium Economy) bag tags have now also gone. A new tag is now attached in the sticky part of the bar code bag tag (similar to how many other airlines do it). The bar code tag itself is now also printed with the words 'PRIORITY' in several places as well.
Headed up to the Clubhouse where I was warmly welcomed

Settled in and service was great whilst I was there. It didn't seem to get very busy whilst I was there. The SFO Clubhouse do serve the best Clubhouse burgers IMHO!!
Had a quick chat with the Clubhouse manager about the new Manchester service starting at the end of March which they where all looking forward to.
Most people seemed to drift out of the Clubhouse before the flight was actually called. The priority security line wasn't too bad and I was through is a few minutes. Still no TSA-Pre for those of us that have Global Entry for International VS flights yet (though I believe this is coming sometime this year).
VS where departing from gate A3 which was a little chaos as BA where also boarding a flight at the same time from gate A1 so there where pax everywhere. Boarding was slightly delayed for some reason but finally commenced around 20:20 so there was no chance of a 20:35 departure now (original departure was 20:05).
I was again warmly welcomed onboard and directed to 6K on G-VNEW (Birthday Girl). Pre-flight drinks where too offered and the J cabin soon filled up. I think there was just 2 empty seats in the end.
Sleep suits where handed out, which I never bother with as I prefer sleeping in my own shorts + T-Shirt.
We had a total of 176 pax + crew on this evenings flight. The door was soon closed and we pushed back at 20:50. It felt like we were taxiing back to the city and finally rotated at 21:20. It was a little bumpy but this was to be expected due to the wind and rain.
Service soon started with drinks followed by dinner. As I'd eaten in the Clubhouse I just had a bowl of soup followed by the cheesecake desert. Breakfast card was filled in and handed to the crew. I did start watching a film as well.
Nipped to the washroom to change and my seat was converted to a bed and it was time to try and sleep. I must have managed a good few hours and I woke just as breakfast was being served.
I changed back to day-wear (I also always have a charge of shirt on night flights as well as I keep a clean one in my carry-on. After freshening up and having a shave (I again always carry my electric shaver in my carry on; these are perfectly OK to go through security at airports), it was time for breakfast.
My bacon butty and pancakes where very tasty. The cabin was soon secured for landing at LHR. After quite a few merry-go-rounds, we finally touched down around 15:05 (scheduled arrival time was 14:15). It was becoming more and more doubtful that I would make my 16:07 train

Said my goodbyes to the crew and made my way to immigration as quick as I could, which was the usual complete and utter chaos it always is now. The 'queue' was up the ramp / steps again. I say queue but it was just a whole bunch of people really. Once you finally get to them, those new e-gates are hopeless IMHO as many people struggled to use them, you could see they where not reading passports correctly and many people where rejected and sent to the manual line. The non-UK manual passport lines where much much shorter. I'm tempted to try and use those next time. No idea what they would do?
60 seconds to get though US immigration on arrival there, 20+ minutes to get back into the UK. The system works - NOT. Welcome back to the UK!!!!
Bags started coming off pretty quickly so I sprinted down to the HEX (I'd already purchased an advance purchase ticket for this which is slightly less of a wallet shock being £16.50). 15 minute wait for the next HEX so no chance at all now I was going to make my 16:07 train from King's Cross as I still had to negotiate the tube from Paddington to King's Cross.
Gave up and headed back up to arrivals for some nicotine and to see what Virgin Trains East Coast (VTEC) would say. Rang them and they basically said tough; as I had an advance purchase fare for a specific train there was nothing they could or would do and I've have to pay again for another train fare. £125 later and a new anytime single standard fare was booked (I'd only paid £77 for an advance purchase First Class fare). It was suggested I get on the 18:03 VTEC service as this was direct to Skipton and it was also showing low reservation numbers so there would be plenty of seats.
Headed back down to the HEX and then the tube to King's Cross (for someone who doesn't use tube trains very often, even though it's only about 5 stops, the tube between Paddington and King's Cross is a little confusing TBH as the circle line terminates at the next stop which is Edgware Road, so you have to get off and then get back on the same tube train to carry on the King's Cross.
Once at King's Cross I collected my ticket from the self service machine. Had an hour or so to wait so hung around at King's Cross and had something to eat before getting the 18:03 train to Skipton.
Both VS and VTEC have completely washed their hands of me and have both walked away uninterested. They where both quite happy to take people's money when when things do go wrong they both walked away.
I have now claimed the £125 back on my travel insurance which was a damn site easier then trying to talk to either VS or VTEC. VS have thrown 10,000 miles at me though now (but even that took further pressing). I've still to hear from VTEC.
Regards

James Mitchell