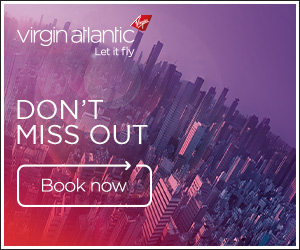 Hi Guys and Girls
I would really appreciate any help on this matter.
I have flown with Virgin before in 2015 from MAN to MCO, and as such we are due to go again next year and would love to stick with Virgin Atlantic. The accommodation is booked via Disney, and we have been waiting upon the release of the return leg of the flights to be able to book these.
The return leg of the flights are now available to book and at first looked like we could book a round trip for £600 each. There are 2 parties going, 6 in our party, 4 in the other, so total of 10.
At this price they simply vanished in no time (hours?).
The prices are now fluctuating hourly between £1000 each and £1400 each and using ExpertFlyer to check availability, it is showing little availability for economy.
We have a friend who has access via a work colleague into their "Virgin Travel Account" via work (they aren't a travel firm but do travel a lot) where they can book discounted flights which has thrown in an option.
His colleague has advised us to wait a further week to book our flights basically, even though the availability is showing as very limited (shown below), because he says they will release more "lower bucket?" seat classes for sale then.
Is any of that true? We can book the flights direct with Virgin via their system, and I haven't a problem doing this, I'm just nervous about waiting and missing being able to book with Virgin.
The details of the flights can be seen below. We wish to travel there as early in the day as possible (10:30 flight) and return as late as possible.
Do I book now at full price (maybe £1400 each?) or do I risk waiting, as I'm told I can probably book a return flight for £460 each if I do?
If anyone can offer any views on this I would very much appreciate it, I really need to make my mind up

Thank you all kindly for reading and for any help / advice you can offer.