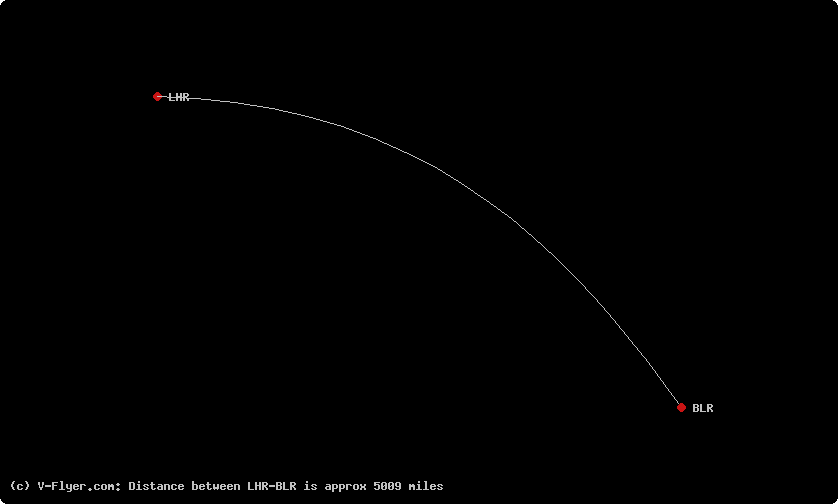 What's there to say about this trip? Well, it got me here safe and sound.
Even with the fog I was way too early arriving at T5, where bag drop (at least for international flights) opens strictly 3 hours before scheduled departure. This led to the novel experiences (for me) both of having to hang around landside and also of drinking coffee before travelling. I'm not really quite sure why I did the latter as when in a lounge I'm more than willing to imbibe regardless of the time of day, but something held me back. Can't complain though as the staff at the bar were very pleasant and I got to see something slightly uplifting when a little girl fell and bumped her head on the floor and airport and bar staff all chipped in to see her and her mum were ok. I think the airport staff possible over zealous in calling an ambulance for suspected concussion but they did seem to show genuine concern on how the girl was.
After that bit of people watching the time for bag drop came around, and that and security proved to be a breeze, through both in less than 5 minutes. My plan to hunker down in a corner of the Aspire Lounge was thwarted though by the fact it's the size of a Twister mat and there was a queue as the expected throughput of people was being disrupted by flights delayed due to the weather. Putting my name down on a little list I opted to head off to try and find a small bottle of duty free something for my stay in Bangalore and have lunch somewhere. Unsuccessful in the former, successful in the latter but on returning to the Aspire lounge the queue was still there so, with only a few minutes to go to the gate being announce, and knowing I wanted to try out playing some videos and music on an extended storage device for my iPhone I decided instead to find somewhere to charge my phone. There seemed to be quite a few of the charging points sockets not being used, which turned out to be down to their not working rather than there being an abundance of supply over demand.
Departure gate was announced on time, and we all dutifully assembled to then be told of a delay of at least an hour and invited to (politely) to b*gger off back to the main departure lounge and spend some more money; I opted instead for an hour's immersion in the exploits of the police service in Aberdeen. (side note: whatever happened to editors? Why is there a reference to a "grizzly murder scene" in which no bears were involved?).
On the upside, the gate team was good at keeping us informed of the fact that the revised departure wasn't being further revised. It was also interesting to hear the call for the Houston flight where people were being told their hand luggage would be scrutinized and if over number or over size would be put in the hold. On the downside the gate team was completely useless at managing priority boarding (this stuff matters – it's about the only benefit from my Bronze status

). By happenstance I got pushed on the front to the second bus up by the driver, and after a tour of Heathrow was first off and up the steps before the rest of the hoi polloi to secure "my" overhead space for my laptop bag.
Once we were all boarded and seated there was some further delay, which I passed in conversation with the two young Indian IT engineers who had spent the previous two weeks on their first visit to the UK - taking in Ipswich and Cardiff. It reminded me a little of my first major project at my current employer, where our US consultants were excited by the opportunity to spend some expensed time in the UK only to find it was in Milton Keynes
So 1 hour and 20 minutes late we took to the skies. From that point on it was really a test of endurance. Full marks for the food – the Indian offerings were very tasty – and the crew member who, when returning down the aisle after the drinks service, passed me another gin and tonic (Fever Tree, so another plus) saying she thought I probably needed it.
Fewer marks for the IFE, which is very poor quality visually and, with the handset built into the arm of the seat, likely to change channel or fast forward as you rest your arms. The content wasn't to my taste either, but that's to be expected as there hasn't been much at the cinema for the past few months that I have particularly wanted to see.
No marks at all for Mr "Recline From The Moment of Take Off to the moment of Landing" in front (particularly as initially the seat had been spare and he'd moved to it) and Mr "Put Feet or Knees into the Back of My Unreclined Seat" behind. Thanks guys, you're champions both and helped me pull one of the longest consecutive periods without sleep that I have done since….oh, the last time I flew to Bangalore.
We landed into a misty Bangalore having made up no time on the flight but the airport processes were efficient (though I do wonder about the utility of the screening after passport control and before baggage collection where everyone who passes through the arc sets it off) and I was at the baggage carousel within 30 minutes. Where I paid the price for having been at the airport so early, as I think my bag was the last off.
Then into the madness of the Bangalore traffic, where though we were not heading to the most congested area of the city we did spend quite a lot of time driving in what seemed to me to be circles before arriving at my hotel. This is one slightly odd construct, a bit like a Caribbean resort dropped into a suburb of Bangalore, where for the next few days we will be sharing space with a Urologist Convention a and a Zen retreat.
We can get better, because we're not dead yet