This is a Trip Report from the Upper Class cabin
Ground Staff

Food & Drink

Entertainment

Seat

Cabin Crew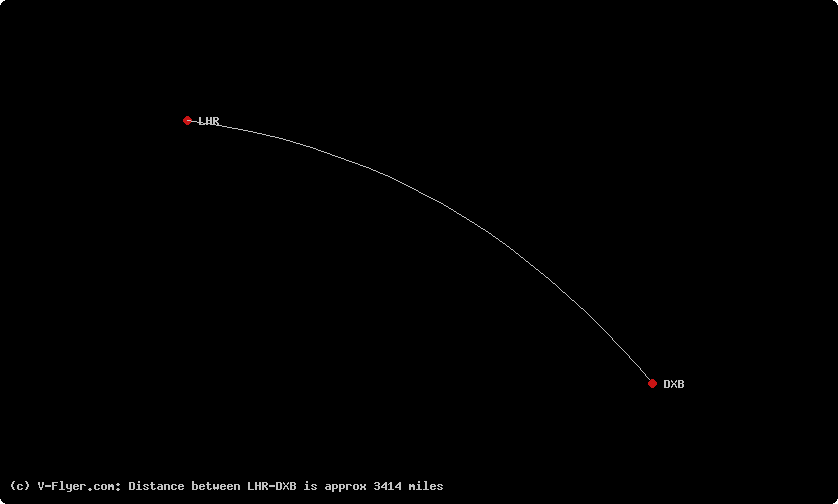 Well as seems to be the norm these days in the Buns' Household, due to family care commitments, this trip was planned at a fairly late stage - even so, I did manage to book PE outbound and UC return on what has become an annual jaunt to Dubai in January. So with 70,000 miles taken from each of our accounts (after intervention of a "manual"adjustment by the Au Call Centre) our flights were booked and fairly good hotel rates, a little sun was to be in order.
Whilst I have been a great supporter of Tristar over the years, now that they are part of Addison Lee I was able to see for myself that I could save a third by using the Ford Galaxy option over the Tristar Merc. So there being no contest, the Ford was booked and the duly appointed day soon arrived.
Having experienced the M25 in the early afternoon, I had booked the car for 2:30 anticipating arrival at the forecourt of Terminal 3 after 4pm. Well the journey was one of the quickest I have ever had in the daytime and an hour later there we were taking in the kerosene air of Heathrow

(the smell always brings back fond memories as a child taking the bus across London to watch the planes from the roof of the Queens Building for six old pennies!!). I think even our drive was surprised at how quick we had got there with no hold ups or the hint of any congestion. So we trekked across to the Virgin / Delta door and to the UC Check In area back in its old home of Zone A.
A very efficient check in process (I had of course checked in on line the night previously, but as SEQ numbers are now sadly things of the past, this is hardly worth mentioning, other than to say I could not for the life of me manage to print of a boarding pass). Anyways, the nice check in lady obliged and in spite of her "you're early"comment, we made our way up to the hallowed Special Door

Needless to say, security was empty and so a slow stroll through the Duty Free maze and thence up to the Clubhouse, knowing we would have to be there for the next 6 hours


Ever since i had booked the flights, mrs Buns had been pressing me to see if there was availability in the Upper cabin to upgrade - despite the loads showing plenty of availability, there were no G's to be had. So on entering the Clubhouse I egged her to go to the concierge, which she promptly did and hey presto, two G's were there for the taking!! Our tickets were taken from us and would be replaced in due course in exchange for a further 10,000 miles and £54 each - which Mrs Buns was more than happy to pay for (but more of that later).
With seat concerns addressed, we made our way to the Spa and duly booked treatments - with it being so early, we had the pick of time slots and I went for a much needed haircut and Mrs Buns the relaxing hand and arm treatment. As hers was a paid option, she was even offered a "free" treatment in addition. With treatments booked for 6PM we now knew we could relax, take in a Bramble / Redhead or two before we had our treatments, then dined.
As I mentioned in my post of the evening, theClubhouse work was now underway with the library and loft areas currently screened off. Also, the cloakroom and shoeshine areas have been temporarily moved. During my haircut, I was told the sauna will eventually be changed into a cinema room. After my haircut, i managed to find a seat in front of the bar (the place was now starting to fill) and fortunately the server who had been looking aft Mrs buns and myself saw me and quickly brought me another Redhead

Whilst waiting for Mrs Buns' treatment to be completed, there was a PA call and you can guess what - yes, I needed up paying for the upgrade

The Clubhouse menu does seem smaller than before but I can only suggest that the kitchens must be featuring in the upgrade works. All in all another super Clubhouse experience.
Knowing we were in the centre seats, we made our way to the Gate as soon as it appeared on the monitors and before it was called in the Clubhouse. No hold ups at the Gate Lounge and straight through Door A on the aircraft and managed to blag some space in the overhead bins before too many passengers arrived.
The centre seats on the A330 are smaller, but given we were on G's, I was happy enough. The Cabin Crew were working hard with what was now a full UC Cabin and coats taken and very kindly sourced some prosecco rather than the awful Gardet stuff.
Pushback was ahead of time and as soon as we were airborne, service commenced with drink orders and for those who wanted to sleep, beds made up.
The Menu:
Starters
Smoked salmon
Hallioumi salad (v)
Tomato and basil soup (v)
Mains
Roast chicken
Fillet of beef
Mushroom stroganoff (v)
Crab cakes
Pudding
Warm orange marmalade panettone
Chocolate brownie
I went for the soup, beef and panettone and was more than satisfied (with the exception of the broccoli puree that accompanied the beef) and after dinner both Mrs B and I settled down for some sleep, I should add we were the only two who did not convert our seats!!
After a few hours sleep I awoke to the breakfast service (I just had some scrambled eggs, hash browns and mushrooms) and we seemed to be heading for a very early arrival.
However, fog in Dubai kept us circling until a slot for our landing was available and eventually we arrived on schedule.
Having experienced Dubai arrivals before and taking into account the VS Flight now arrives two hours later than before, we decided to book the Marhaba Meet & Greet Service. After leaving the jetway and ascending the first escalator, we were met and escorted all the way through to an exclusive Immigration Desk with no waiting at all and thereafter as we went to the duty free, our luggage was collected and was ready for us to leave the airport and be mat the the Hotel Car. A little extravagance, but having waited in line to get through Dubai immigration in previous times, it was a price worth paying.
All in all a really solid Vs experience with a good hard working FSM and Crew
Thank for reading
buns