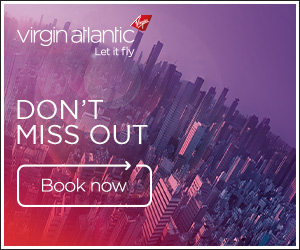 Hi All
The news of the past few days opens up the playbook of opportunities for VS and MAN, with the following passages jumping out to me from the press release:
"Deliver more choice to customers by linking UK regions and Ireland to Virgin Atlantic's extensive long-haul network through improved connectivity at Manchester Airport and London Heathrow
Provide a strong foundation to secure the long-term future of Flybe, its customers and its people by leveraging the combined commercial, operational and functional expertise and scale of Virgin Atlantic and Stobart Group
Utilise the strength of the Virgin Atlantic brand, and the offer of an enhanced customer experience in keeping with Virgin Atlantic's heritage
Provide the Combined Group with an enhanced presence at Manchester Airport , London Heathrow Airport, with the potential to grow further in London Southend Airport"
I'll share my thoughts below using the same headings as the first post.
However, my overarching point is that I don't expect anything to change overnight, it will take time to put the building blocks in place, but the pace of growth should pick up.
Existing Route Network
Clearly this should permit VS to develop the base further, faster and address the major issues which are seasonality and lack of frequency (assuming the fleet issues are resolved).
I'd expect the network to be developed into a series of departure waves, which in my book requires higher frequencies and year round services. At least daily to JFK, ATL, MCO, LAS, LAX, BOS and higher frequency to the likes of BGI and any new routes to be opened (see below).
New Routes?
I think this offers the chance to open new and previously operated routes.
SFO should be in the thinking, as well as SEA, MIA and DEL. Id not be surprised to see JNB and perhaps BKK appear (even if some are seasonal) as well as some of the beach routes currently / also flown from LGW.
Short Haul?
The optimisation of the legacy BE network to support MAN will be interesting.
It should be relatively easy to understand the objective for the UK, as you would imagine the objective should be to connect MAN to each of the second / third / fourth tier UK regionals that can sensibly be plugged into the network. I don't think too much needs to change. I'd expect 4 - 5 daily frequencies to the likes of GLA, EDI, ABZ, INV, NCL, STN, SEN, NWI, NQY, EXE, SOU, as well as the major airports on the island or Ireland and the channel islands and the IoM.
Ideally you'd want the hub banks at MAN to have tight turnarounds, so that if they decide to cut (by way of example) SOU-NCL the same journey can be made SOU-MAN-NCL with a tight turnaround at MAN with minimal time penalty.
The extent to which they seek to gain a foothold in Europe is something I don't know much about. You'd expect they'd look to connect MAN to secondary French, Italian, German, Iberian and Scandinavian airports with little direct long haul to compete with IAG and LH Group (not AF/KL so much).
Fleet
The obvious question is what to do with the BE legacy fleet. DL have an order for A220, perhaps some of these will make their way to the UK?
Infrastructure at MAN
Its difficult to see how a Clubhouse isn't provided, and I expect the legacy BE operation to move to Terminal 2 with VS. The question is when these things happen.
I wonder whether VS might want a dedicated pier at MAN (or something similar) to improve the transfer proves and get their short and long haul aircraft in close proximity. I also wonder if they might support USPC for additional advantage and to compete with DUB.
Potentially exciting times ahead - andy thoughts welcome!
Last edited by
Dobbo
on 12 Jan 2019, 23:31, edited 1 time in total.