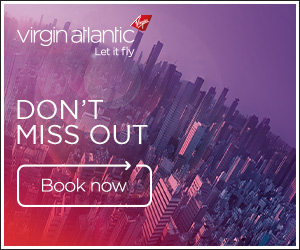 Weaver33 wrote:

ColOrd wrote:Weaver, I didn't realise you were SPD! I feel honoured to have you on our little forum as I am a big fan of your Twitter account.

I think it's absolutely right you tweeted info you had that was from a credible source!

That being said, I fundamentally disagree that VS have not firmly got Manchester in their sights and will
continue to develop it - as soon as they can return to a proper period of growth!



Thank you.

This is the only forum I'm currently on, I find the bigger ones far too 'toxic' and there really are agendas on those that I don't wish to partake in. I joined this forum as I've been a big fan of Virgin and it's product, and usually use them when flying out of Manchester (have 2 flights with them to MCO next year for example).

As far as my thoughts on Virgin. I appreciate there are constraints to their fleet at the moment but I still maintain that 2021 into 2022 has been handled poorly. I have heard certain things that also form part of my opinion but given I don't usually deal in speculation, I'll just deal with what we do know.

Firstly, they cancelled off Montego Bay citing 'entry restrictions'. I find it rather strange that those 'entry restrictions' didn't seem to hinder their London flights? But even if it was so, why not replace those 3 MBJ flights with something else? They clearly planned the aircraft and crew numbers for an MBJ flight, so why didn't they add flights to MCO, capitalising on the wave caused by 2 years of no Disney holidays? Why not give BOM or DEL another crack?

Secondly was cancelling LAX. If it was due to aircraft shortages as they say, then why not get Delta to run either MAN-JFK or MAN-ATL, or both, even if just temporary for S22? That frees up 2 aircraft right there, and that could have kept LAX (and ultimately BGI) running at Manchester? I'm lead to believe DL has a decent bit of spare capacity for S22 currently.

Thirdly was then the way they cancelled off BGI. Why not canx it at the same time as LAX (given I knew at the same time that LAX was being binned off, BGI was too)? Get all the bad news out of the way in one go and then concentrate on building brand confidence again? I know several people now that want to book VS m, but are genuinely being put off as they don't know if their booking will be binned off too?

Fourthly, and this links into point 2 regarding my thoughts on commitment, was the words that Gatwick may be brought back into play. To say they are short of aircraft in one sentence, but then essentially l having too many aircraft in the next sentence speaks volumes. Yes, I know London yield is better, yes there are slots to protect and all the usual other excuses, but frankly, if they were really committed to Manchester as they say they are, there were options to make Manchester work, there were things they could have done to keep flights operating. But they didn't, they cut them. And that speaks far louder than any hollow promises of 'committed to our home in the north'.

I like Virgin, and I don't want to feel this negativity towards them, and want them to succeed, but at the same time, I can't help feel they are full of phoney promises towards MAN right now. Some people may disagree, and that's fine, but I really really don't think they are as committed as they would have us believe.
On the fleet situation they are getting more next year. They should be getting another 3 A350s in the next year (G-VEVE before the end of this year) and based on how the A330-900 production line is going, they should get a few of those towards the end of next year. I believe they will start to ramp up Manchester towards the end of next year when they have more deliveries.