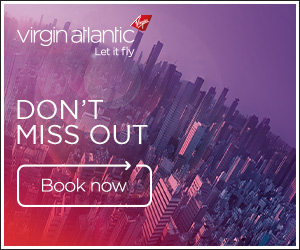 Email received from VS Trade;

Delta is now flying three weekly flights between London Heathrow and Detroit on Wednesdays, Fridays and Sundays using a Boeing 767-300 aircraft. From June 6, the airline will add three weekly flights from Heathrow to Atlanta on Mondays, Thursdays and Saturdays using an Airbus A330-300 aircraft.

Delta's flights can be booked under a Virgin Atlantic code and customers are eligible for Flying Club rewards as usual. Services are scheduled as follows*:

Flight Number Departs Arrives Days of Operation
DL17London Heathrow at 12:55Detroit at 16:30 Wed, Fri, Sun
DL16Detroit at 18:00London Heathrow at 08:55+1Tue, Thu, Sat

Flight Number Departs Arrives Days of Operation
DL31London Heathrow at 12:50Atlanta at 17:24Mon, Thu, Sat
DL32Atlanta at 21:45London Heathrow at 11:05+1Wed, Fri, Sun
*Schedules subject to change

For the time being Delta has moved to Terminal 2, where the walk from check-in to the gate takes around 25 minutes. Customers can expect a pared-down airport experience with no Fasttrack security or arrivals, no access to airport lounges, and extremely limited retail options.

To ensure connectivity for customers with critical travel needs, Delta continues to provide flights to all U.S. hubs and top markets, though frequency is significantly reduced.

Delta's summer schedule is being shaped by customer demand, guidelines from the WHO and U.S. Center for Disease Control and Prevention (CDC) and government travel regulations.